Thought about taking a road trip in Ireland? You're in for an incredible adventure. The 111-mile Ring of Kerry offers some of the most quintessential Irish views, plus unforgettable experiences, charming locals, and great food. Whether you're driving through the Ring of Kerry as part of a bigger road trip – we are looking at you, Wild Atlantic Way – this stretch of road is a hit. The Ring of Kerry stretches out along the Iveragh Peninsula, boasting sheep-filled hillsides, rocky coastal views, deep green forests, and beautiful villages. It's like a miniature Ireland, and that's part of why it is such an amazing road trip to experience. Here are some of the most amazing stops to see along the Ring of Kerry in Ireland.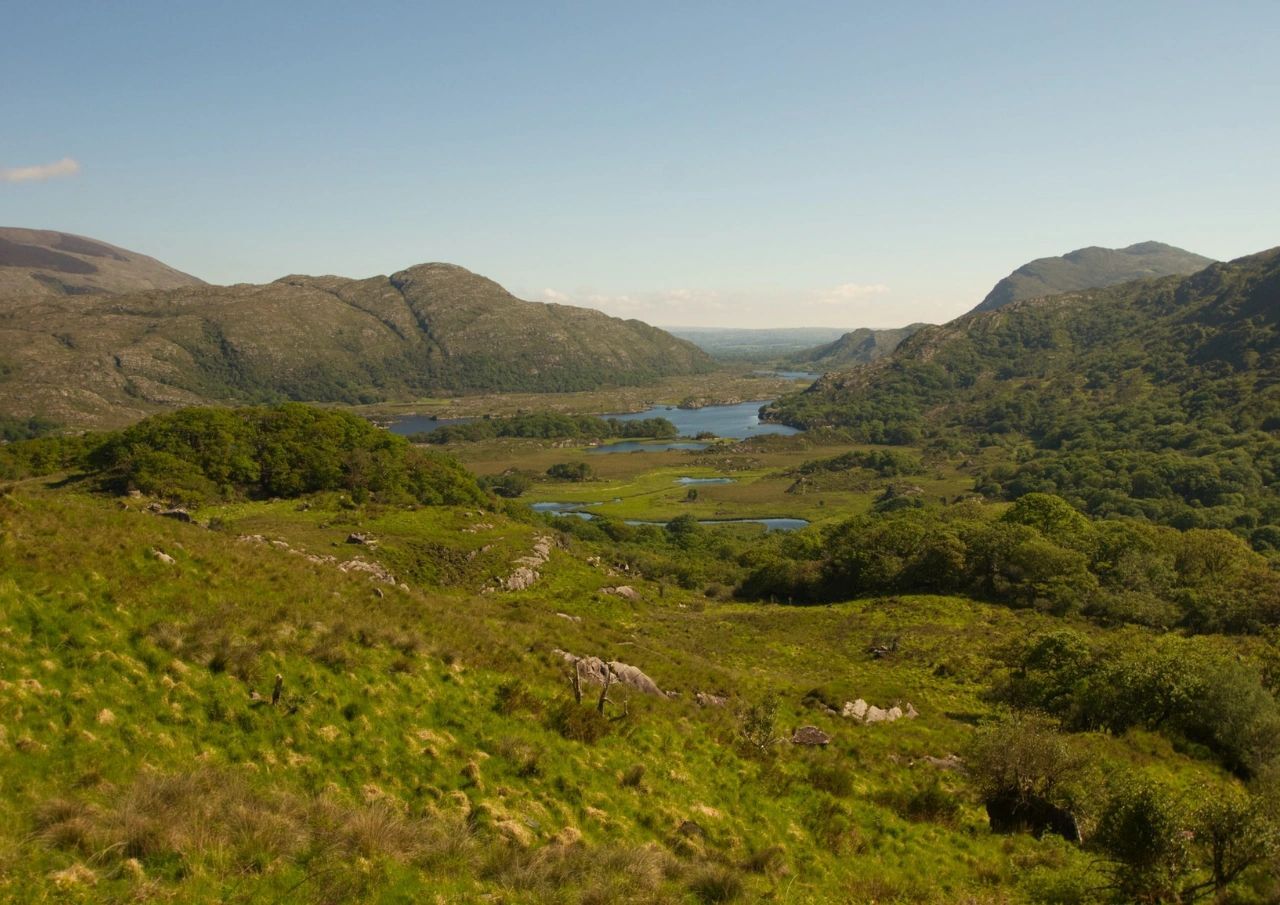 Killarney National Park
When driving Ring of Kerry, the majestic Killarney National Park should be at the top of your list. Not only does it cover a massive 26,000 acres of County Kerry, but it also boasts gleaming lakes, wondrous forests, impressive waterfalls, scenic mountains, and historic buildings. Top that with native plants and wildlife like the beautiful red deer that frolic through its forests.
Plus, it's a great stop to see along the Ring of Kerry if you're looking to slip away into nature, lace up your hiking boots, and do some Emerald Isle sightseeing. Visiting this park, you will lay witness to some of the most amazing vistas in Ireland.
While in Killarney, you can also see the 15th-century tower house Ross Castle, the picturesque Muckross House & Gardens, and the well-preserved Muckross Friary. There's a little bit of everything, and that's why it's one of the best stops on the Ring of Kerry.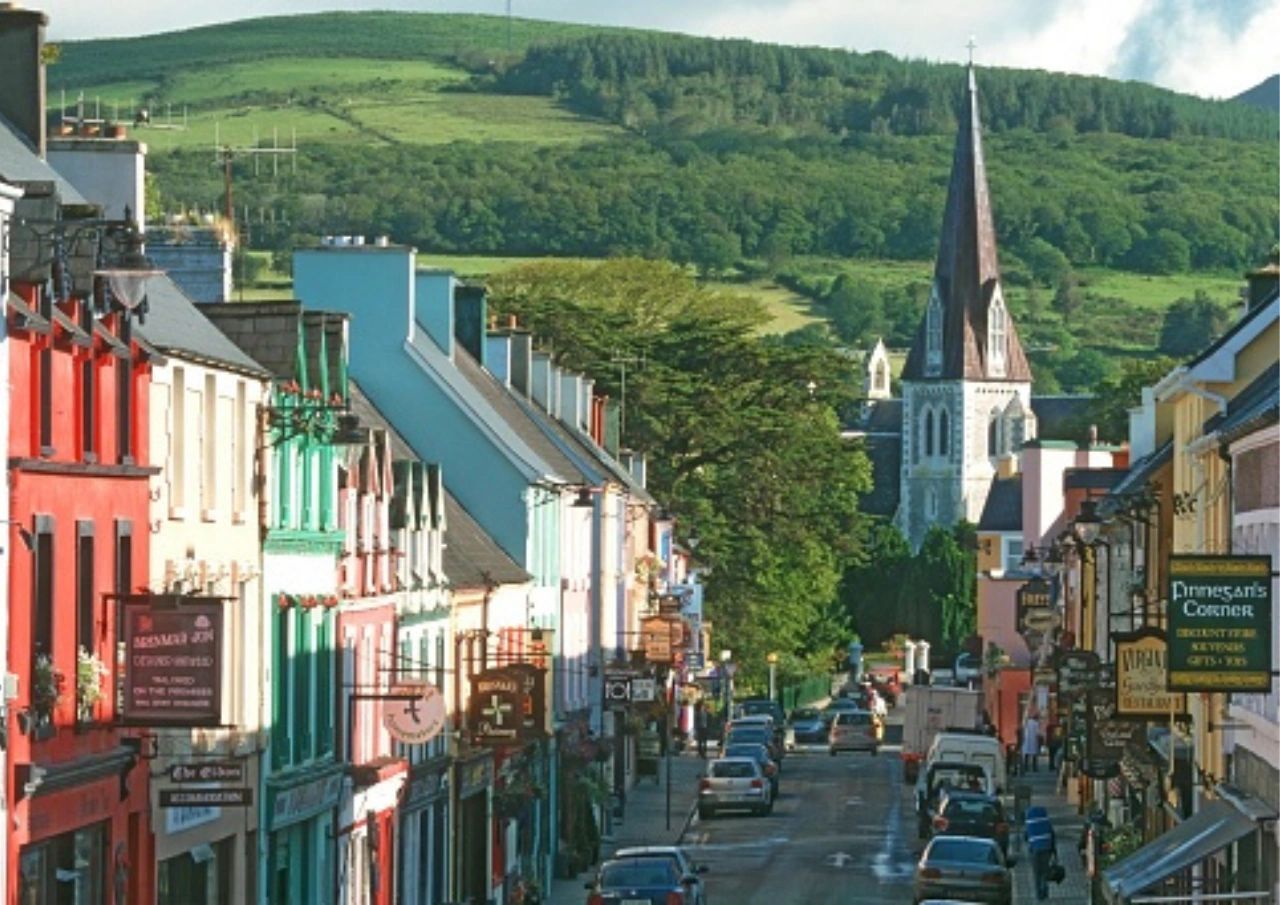 Kenmare
Kenmare is one of the most charming seaside villages on this road trip. It's also where the route begins and ends, so it serves as a fantastic base for part of your trip to Ireland. Its two main streets intersect to form a beautiful scene with pastel-colored buildings, a historic cathedral, and mountains that fill the skyline in the distance.
You'll find excellent accommodation in Kenmare along with fresh seafood from the Bay of Kenmare and the surrounding Iveragh Peninsula. Visit spots like Mulcahys for upscale dining and the village's Kenmare Brewhouse for something a little more laidback.
Derrynane Bay
Ireland might not seem like a beach destination, but there are actually loads of pristine beaches. One of the very best is found on Derrynane Bay. This rocky bay curves to form gleaming white – almost pink – sand that gradually makes its way toward the crystal-clear Atlantic. The view may surely take your breath away. There is a reason why Derrynane Bay is easily one of the best stops along the Ring of Kerry.
Nearby the beach, you can also check out the 17th-century Derrynane House with its gray-stoned walls, historic Irish relics, and surrounding forests. There's also an interesting ruined abbey and cemetery that look over the bay.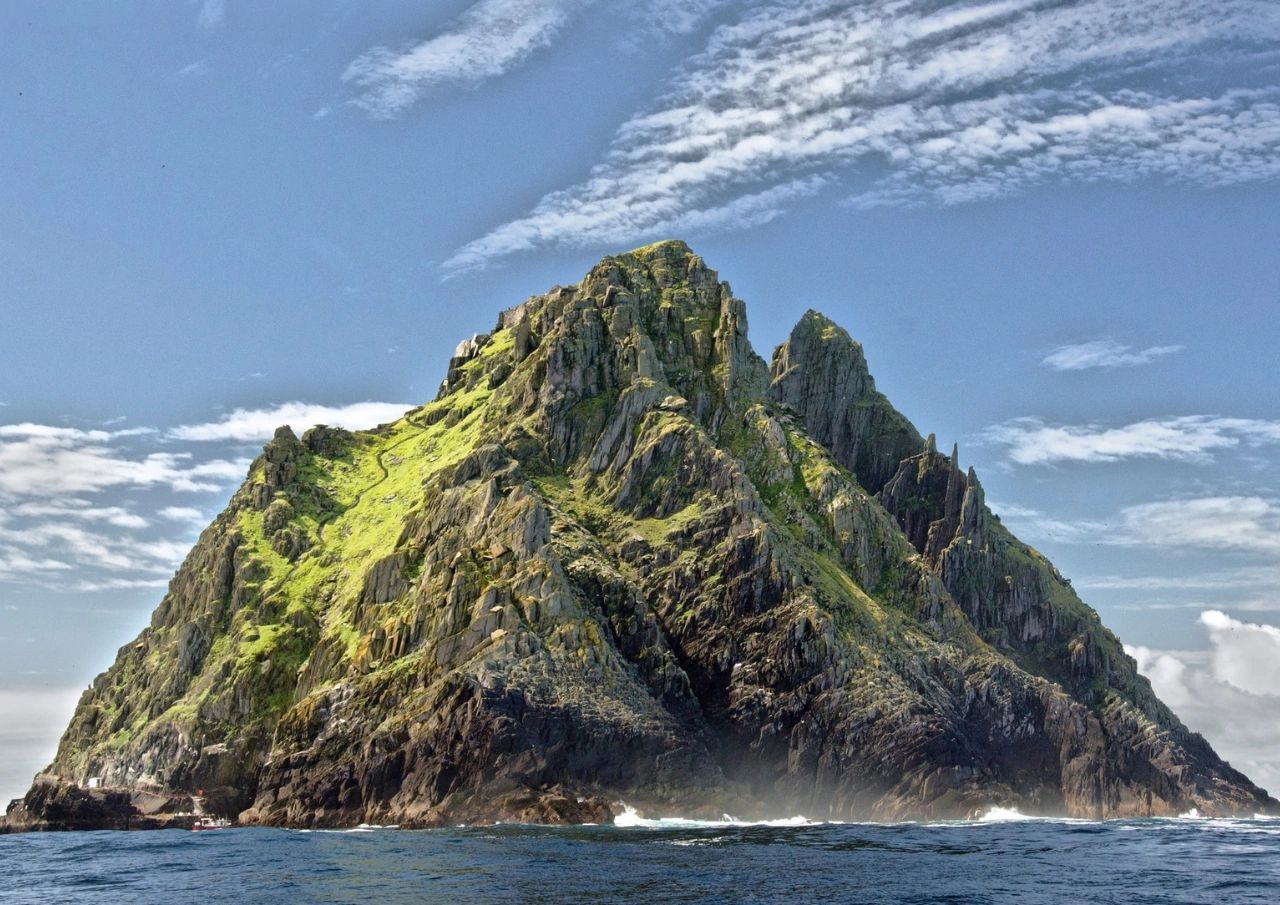 Skelligs
Check off a UNESCO World Heritage Site when you visit Skelligs Islands. Leave the car for a few hours and take a boat ride to witness the sheer beauty of these islands. You'll pass along some of these rugged landforms as you pursue Skellig Michael, an island with a Christian monastery dating back to the 6th century.
While on Skellig Michael, follow up a stone path to the top of the island for amazing views of mainland Ireland, a chance to see the monastery, and witness the local birdlife – particularly the adorable puffins that call the island home. By the way, you might even recognize the Skelligs from Star Wars.
Pro tip: Book tickets in advance if you want to take advantage of everything the Skelligs has to offer.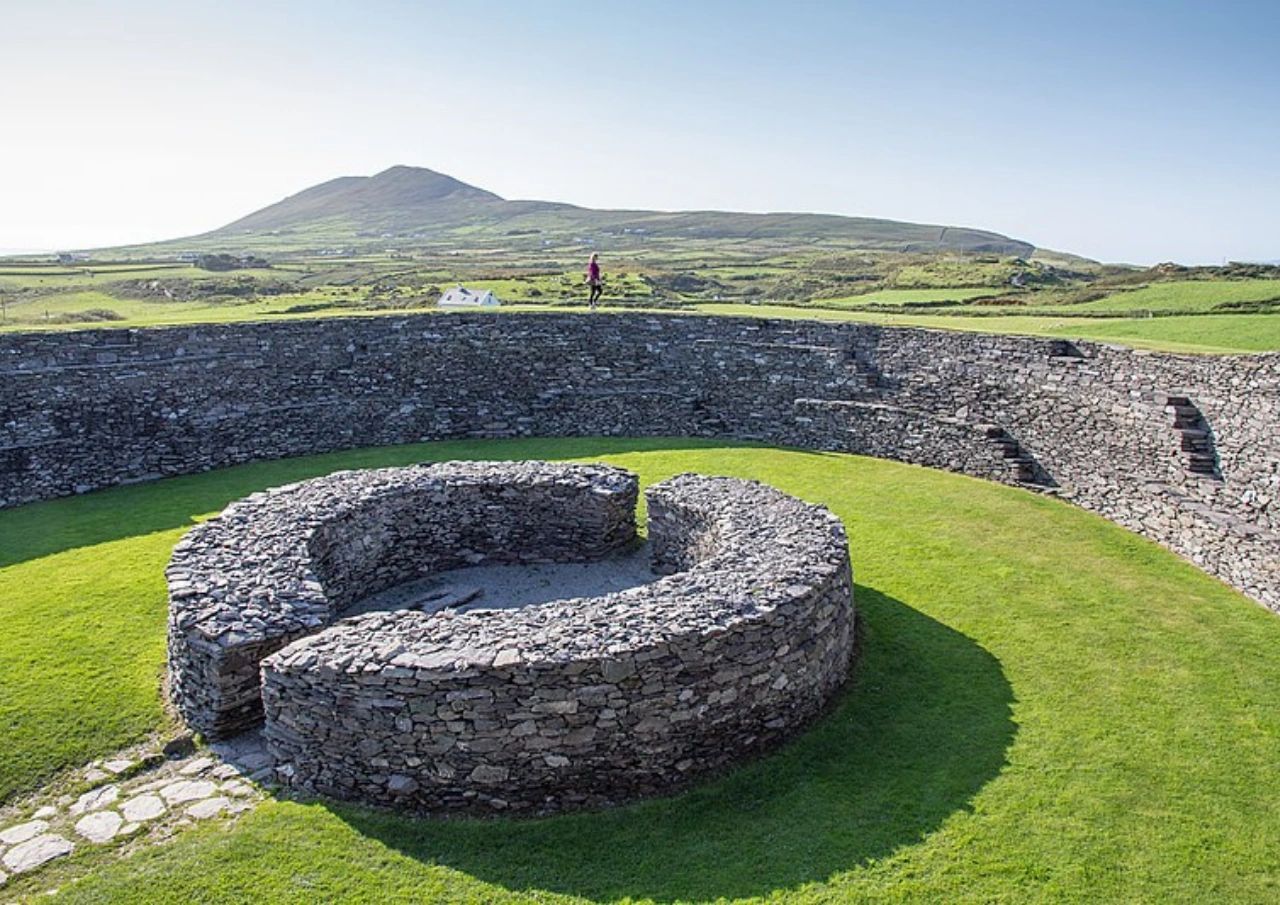 Cahergall Stone Fort
Slip away into the 7th century when you visit this stop along the Ring of Kerry. The Cahergall Stone Fort is a mystifying ring-shaped fort built around 600 AD. Inside the walls are the remains of a stone building, and surrounding the landmark are lush green mountains and vivid fields. It's beautiful, full of history, and makes for a great stop!
Plus, if the weather is pleasant, the grassy area is the perfect setting for a picnic along the Ring of Kerry! A picnic surrounded by lush Irish landscapes is definitely one for the books.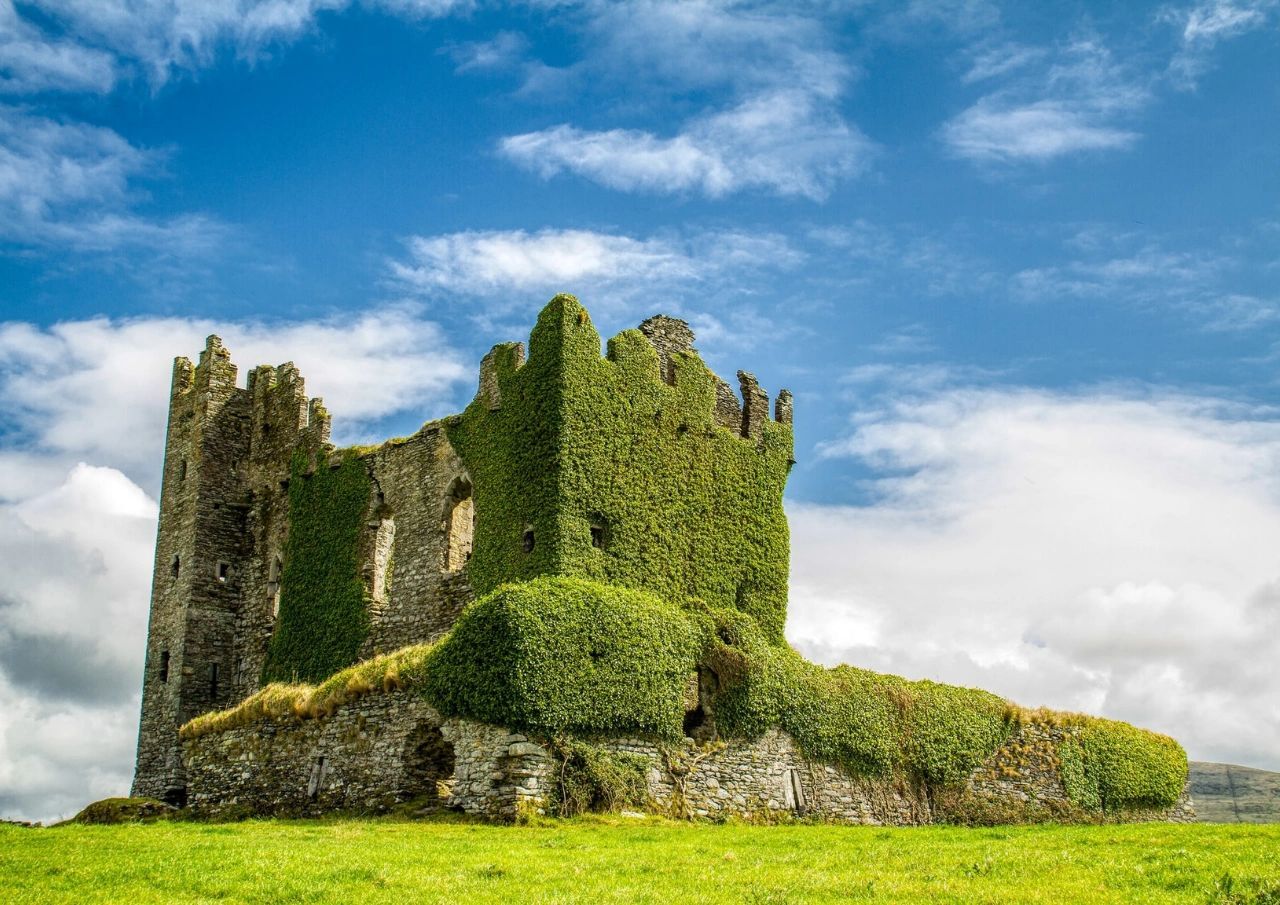 Cahersiveen
Known as 'the town that climbs the mountain, and looks upon the sea', there is so much scenery to take in while in Cahersiveen. The picturesque village lies on the river Fertha at the foot of Bentee Mountain, making for some of the most beautiful views. Plus, Cahersiveen is home to the vine-covered ruins of the 16th-century Ballycarbery Castle along with gorgeous beaches, forests, and a quaint marina.
If you're feeling adventurous while you're there, you can walk to the 6-mile Beentee Loop that takes you to the top of the mountain, flaunting incredible views around Cahersiveen and the nearby Valentia Island. Allow yourself 3-4 hours to complete the hike and bring a good pair of hiking boots.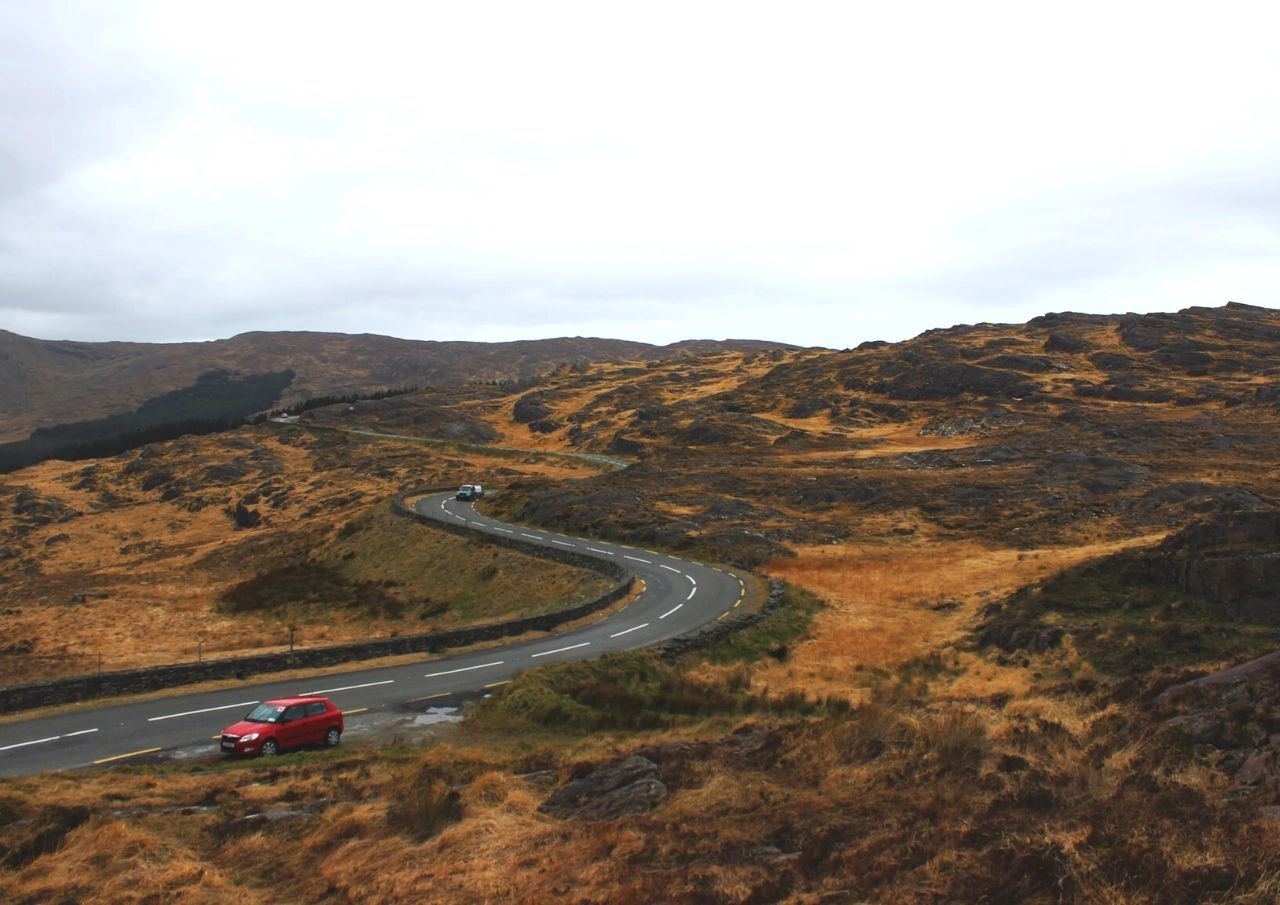 Eager to start planning a trip to Ireland, particularly its much-sought-after west coast? We've got you covered! Reach out to one of our expert travel advisors today for a free consultation. You'll be sipping Guinness and greeting the green hills of Ireland in no time.
If you'd like more information about Ireland or need help planning a trip, get in touch! We'll be happy to assist. Our travel experts are here to help! Book a free consultation to get started today.