The fresh Italian air brushes against sunkissed hillsides as you cycle leisurely alongside aromatic vineyards. The sun is warm, the wine is superb, and the sunsets are poetic – you know you're in Italy. Exploring the wine regions of Italy is one of the best travel experiences to have in Europe. So, where should you go to try wine in Italy? Here's what you need to know about the top five wine regions in Italy.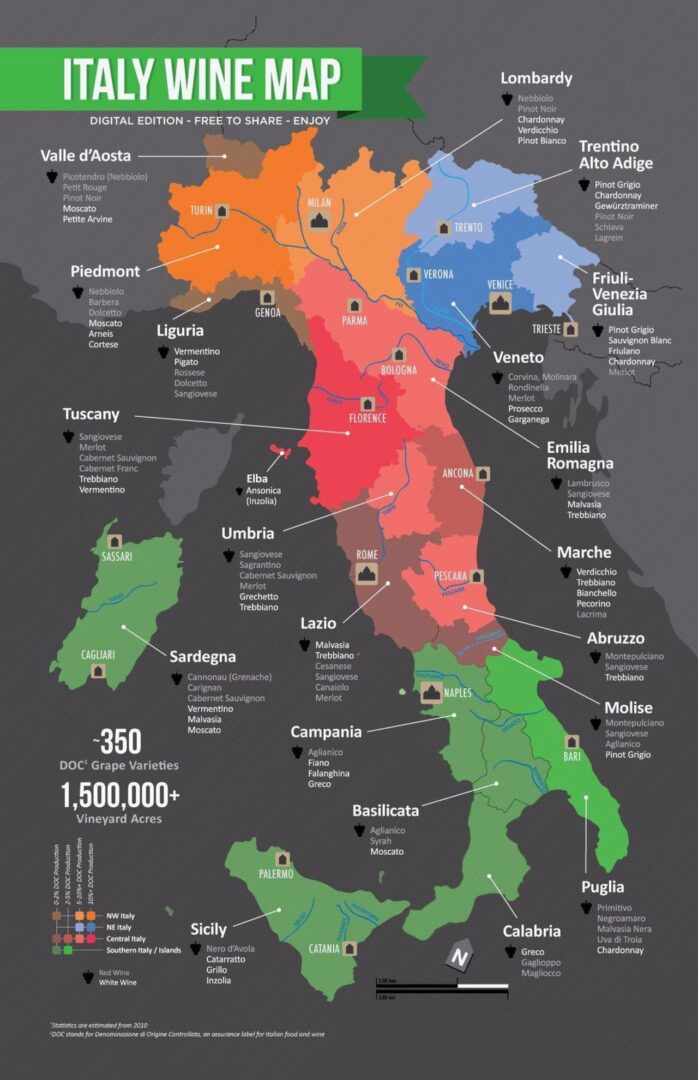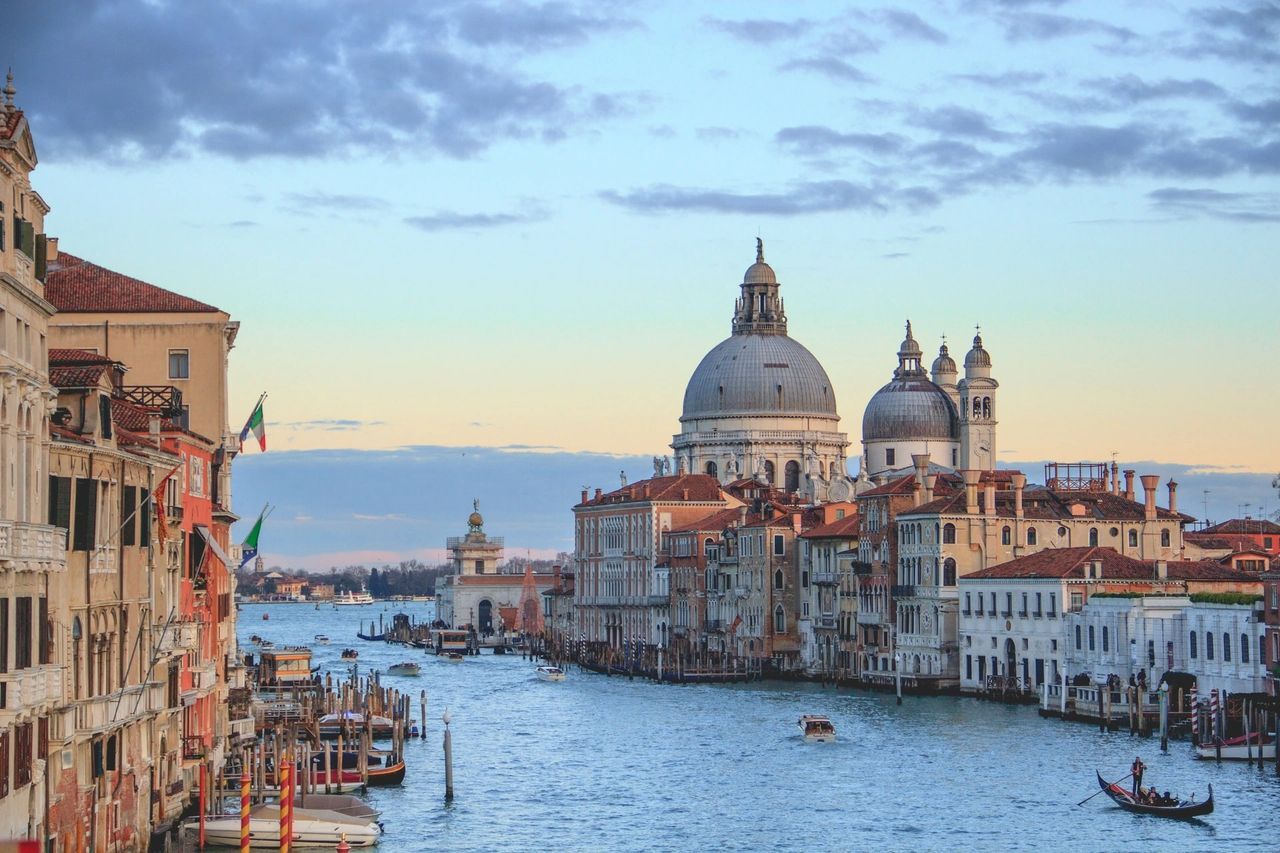 Veneto Wine Region
This is a spectacular Italian wine region boasting Venetian history, Skakespearan love stories, and charming waterways. The Veneto wine region is one of the most significant in Italy, and it's home to the glorious prosecco. Indulge in its bubbly sparkling wine along with beautiful reds like Merlot and Corvina and whites like Chardonnay and Pinot Grigio.
The Veneto wine region is in the northeast of Italy, with Venice as its capital. Other notable cities include Verona – the setting of Romeo and Juliet – and the historic city of Padua. Vineyards in this Italian region can be found along the serene waters of Lake Garda, the lagoon of Venice, at the foothills of the Dolomites, and in the lush hills of Mantua.
The heartland of prosecco is on the lush hillsides of Conegliano Valdobbiadene, located about an hour outside of Venice. Prosecco is much like France's champagne but is made with a grape called Gera and some Italian flair.
Did you know? Prosecco is a sparkling wine, which is known as a Spumante wine (sparkling) in Italy, compared to a Frizzante (semi-sparkling) and Tranquilo (no bubbles).
Why we love it: Vineyards in Veneto surround enchanting, must-visit cities like Venice and Verona, and the region is home to prosecco among other notable wines. Plus, it's more than just a wine region. It's also a fantastic area for those looking to hike and sightsee around the Dolomites or daddle in the romance of Verona.
Our winery recommendations: Azienda Agricola Coffele Alberto is nestled on the hills of the Soave wine-producing area. This winery offers organic wine, surrounded by centuries-old olive trees and forests. Then, known for their sustainable viticulture and family-run vineyard, La Tordera Prosecco is the place for amazing vineyard views while sipping some bubbly prosecco.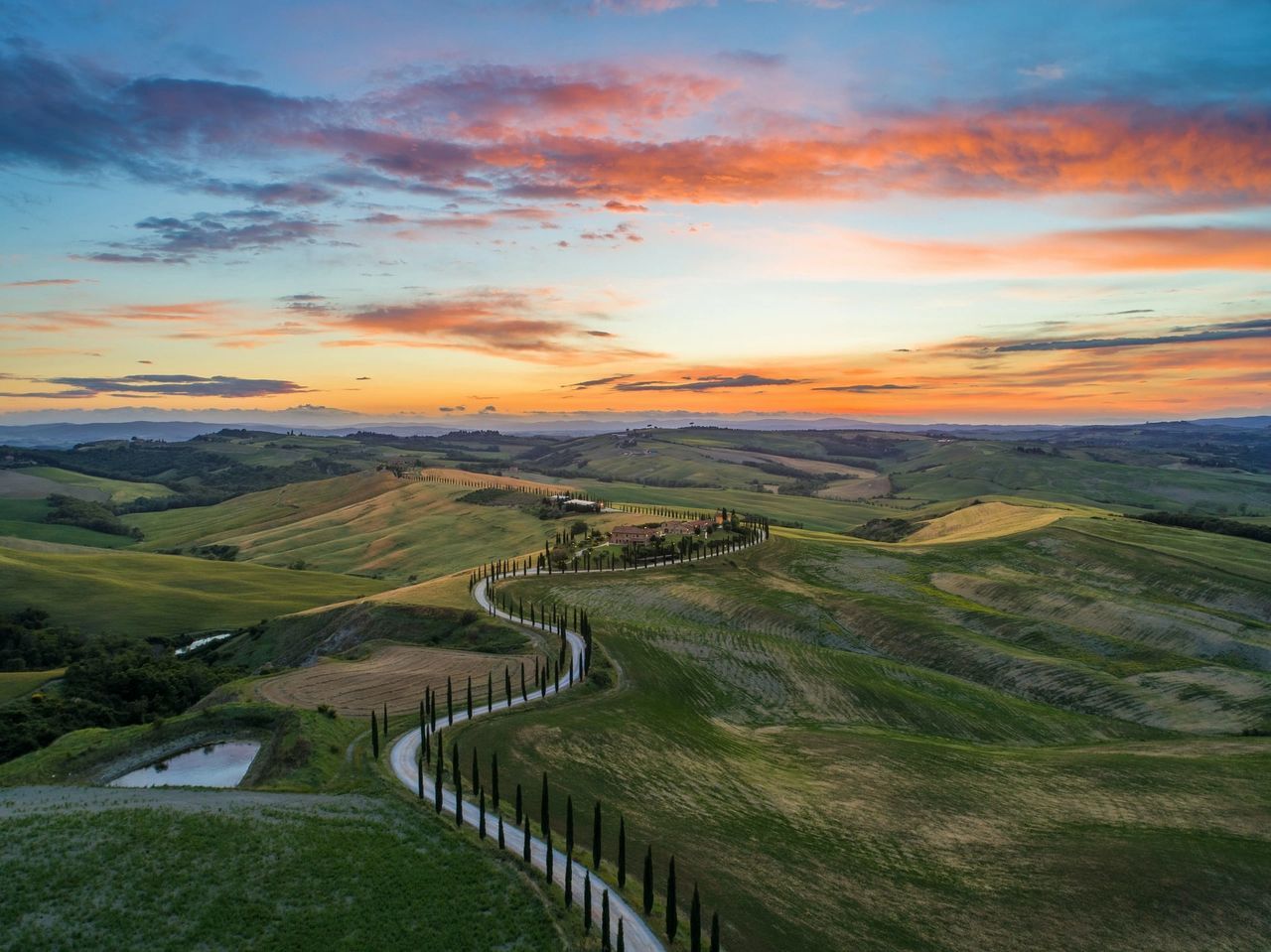 Tuscany Wine Region
Perhaps one of Italy's most famous wine regions, thanks to Chianti and the Tuscan sun, Tuscany is a must-visit for any wine-lover in Italy! Something about Tuscany makes you feel like you've traveled to another time. Romantic, sundrenched hills meet cobblestones and terracotta-roofed homes. These slowly turn into some of Italy's most incredible destinations like Florence with its Renaissance art, historic Pisa and its famous tower, and the hilltop city of Siena known for its impeccable views.
Tuscany's wine production can be traced back to 200 B.C. with the black Sangiovese, and tasting in the region stretch from Florence to Grosseto. Notable wine regions within Tuscany include Chianti, Montalcino, and Montepulciano. Each offers bold flavors and exquisite views.
Red wines tend to take center stage in Tuscany, but white wine lovers are certainly not forgotten. Quality white wines such as Chardonnay, Pinot Grigio, and Moscato can be found across wineries in Tuscany.
When in Tuscany, trying a Chianti Classico wine is a must. Whether you're sitting in a historic restaurant in Florence or staring out at a lavish vineyard from a terrace, find Chianti and savor its rich flavor and floral notes.
Why we love it: It's a picture-perfect Italian wine region with incredible wine. It's great for cycling from vineyard to vineyard, embracing simplicity, and still having the opportunity to explore timeless cities like Florence and Siena.
Our winery recommendations: Castello di Ama is in the heart of Chianti Classico with gorgeous reds and whites, several vineyards, and all the charm of Tuscany. Poggio Antico is surrounded by a beautiful countryside with superior wines in the south of Tuscany.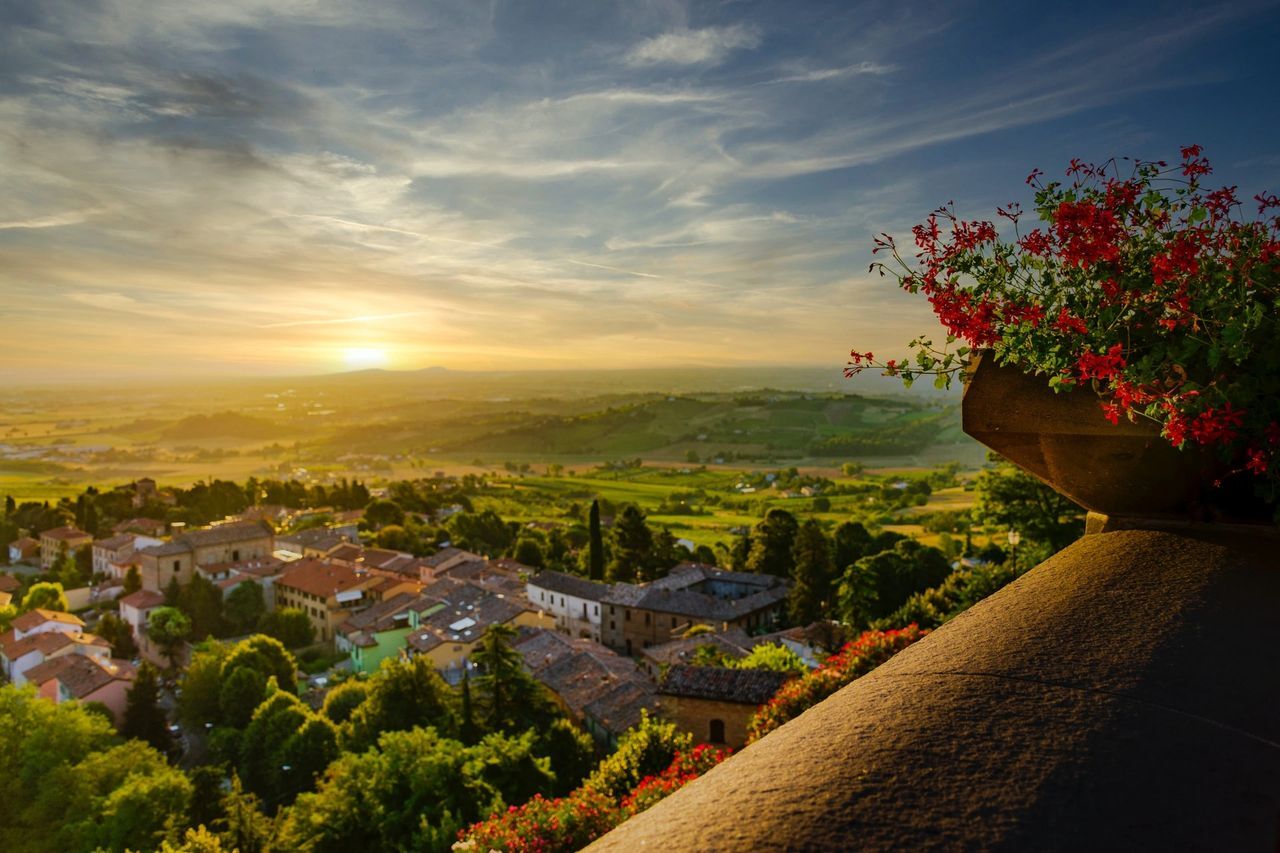 Emilia-Romagna Wine Region
Hillside, medieval castles mix with captivating cities like Bologna and quaint villages along the Adriatic coast. Bologna is certainly the shining gem of the Emilia-Romagna region, nicknamed La Rossa, for its medieval and UNESCO-protected reddish terracotta buildings and porticoes. And when it comes to wine and gastronomy, this region will take your palate for a truly wonderful ride.
One of the advantages of touring the Emilia-Romagna wine region is that it's typically less busy than nearby Tuscany and Veneto. So, it tends to have a really authentic Italian energy with fewer international tourists.
As for the wine of Emilia-Romagna, sparkling wines like Pignoletto and Lambrusco. In particular, Lambrusco is sometimes sweet and almost always semi-sparkling or frizzante, as it is said in Italian.
But it's not all sparkling wine in the Emilia-Romagna wine region. Grapes such as Gutturnio, Sauvignon, Sangiovese, and Trebbiano are also common.
Gastronomy is also king in the region. It's the home of Parmesan cheese, parma ham, balsamic vinegar, tortellini, and tagliatelle. Wine pairing and cooking classes offer the perfect opportunity for acquainting yourself with the region's specialties. As such, Emilia-Romagna is one of the best wine regions in Italy, and it deserves your attention.
Why we love it: Fewer tourists mean you're in for a relaxing time, with historic Bologna and seaside beaches within reach. Plus, Italian semi-sparkling wine is a warm-weather must-try, and Emilia-Romagna makes them superbly.
Our winery recommendations: Umberto Cesari has beautiful green vineyards and an excellent tour and tasting not far from central Bologna. Azienda Agricola La Piana has a very homey and old-world atmosphere with great tastings and beautiful grapes.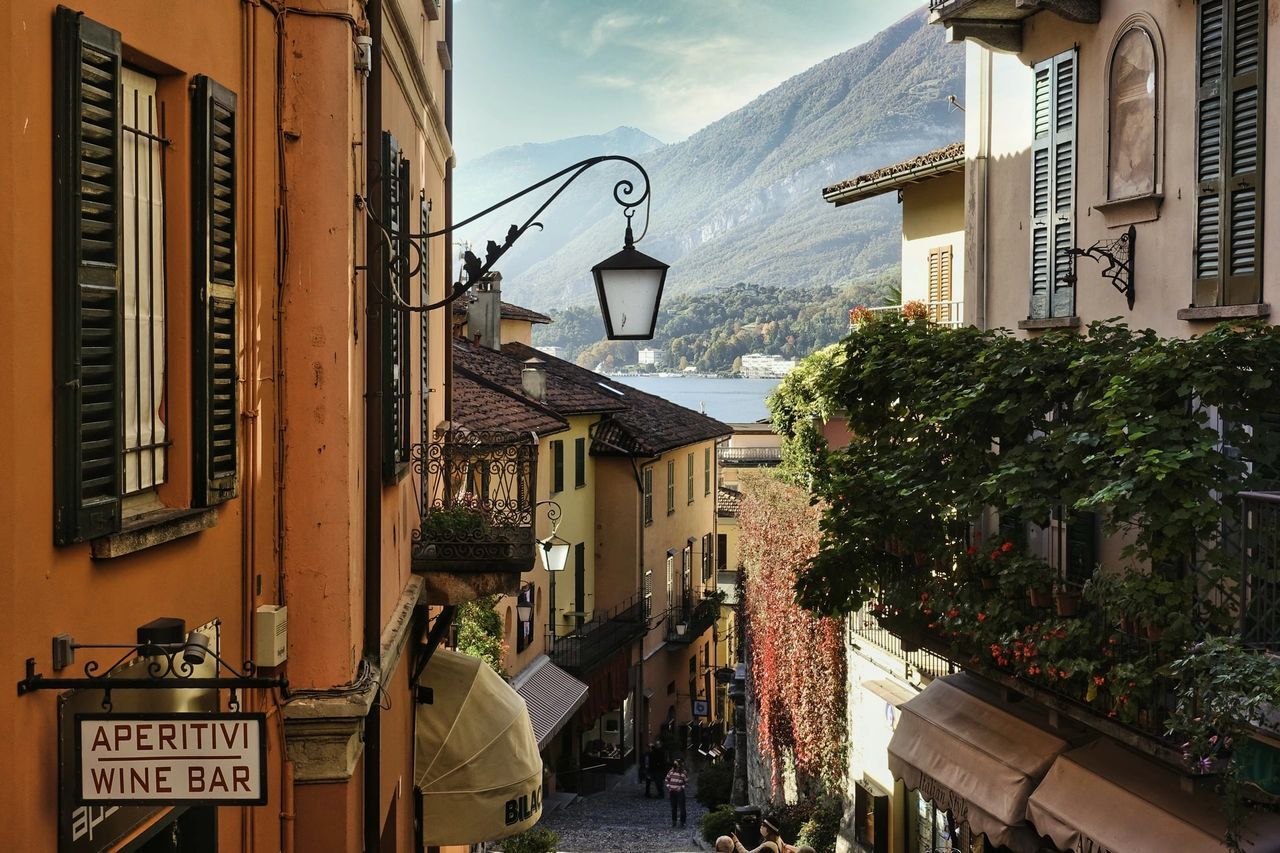 Lombardy Wine Region
Close to the Alps with natural masterpieces like Lake Como and the Valtellina Valley and the chic city of Milan, the Lombardy wine region will quickly captivate you and your tastebuds. This north-central region has a lot to offer from nature, renowned wineries, and lakeside towns.
Home to Pinot Grigio, Barbera, and the smoky Pinot Blanc grapes, Lombardy is one of the top wine regions in Italy. Discover the sparkling Franciacorta and the lovely, cherry-scented Valtellina for two of the best wines in Lombardy.
The Lombardy wine region is a great choice if you want to spend time in Milan, discover some of northern Italy's most precious landscapes, and perhaps take a day trip into Switzerland. Plus, the vineyard views here are exceptional, especially in the hilly Valtellina area.
Why we love it: The stylish city of Milan, flavorful sparkling wines, the nearby Alps, and gorgeous vineyards make Lombardy a unique and special Italian wine region. Plus, being home to the famous Lake Como and its surrounding villages really gives Lombardy the advantage.
Our winery recommendations: Marsetti Alberto is in the famous Valtellina region with a historic cellar and marvelously picturesque vineyards. Il Cipresso is renowned for its organic wines, beautiful vineyards, and proximity to the beautiful city of Bergamo.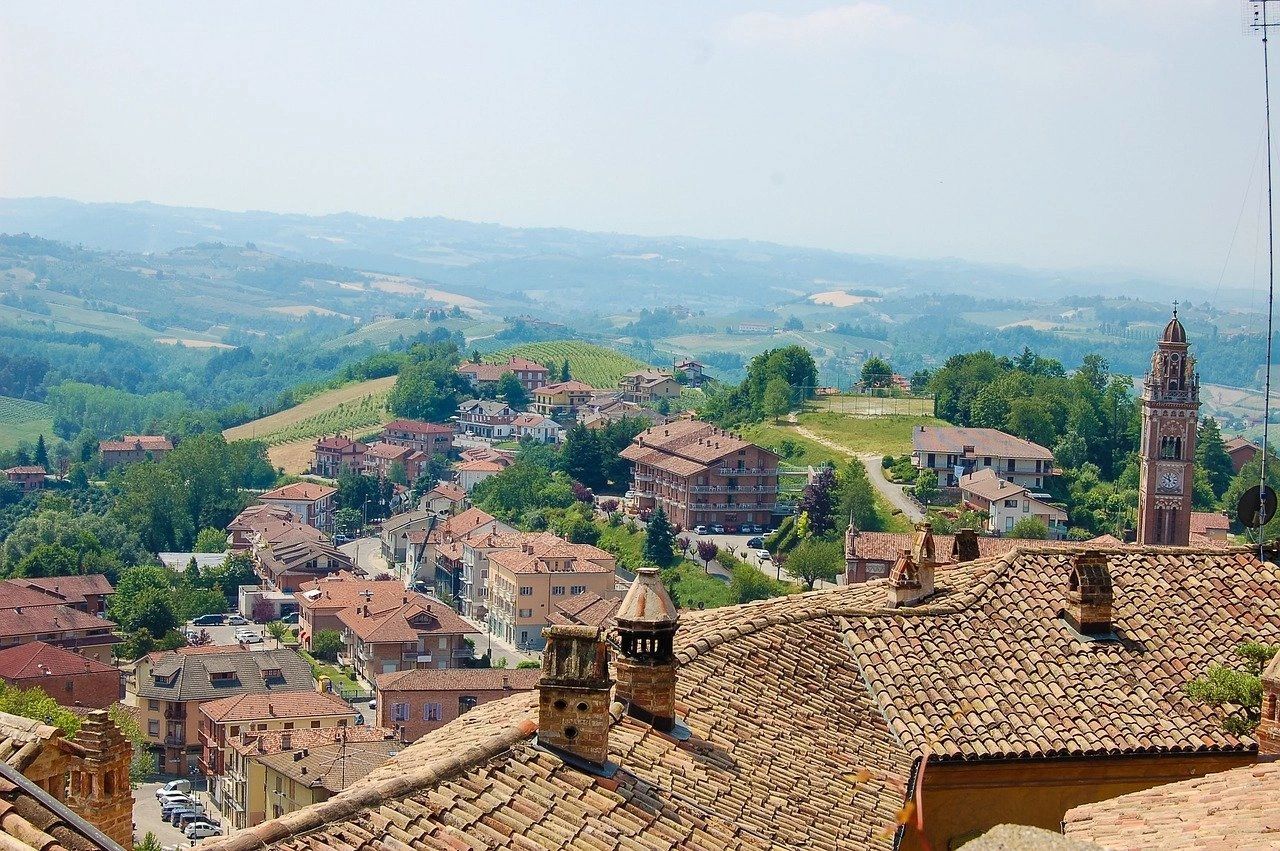 Piedmont wine region
Situated in the northwest of Italy, Piedmont is just below the western Alps, so the climate is influenced by both the chilly mountains and the temperate Mediterranean. This means Piedmont has the perfect conditions for growing the Nebbiolo grape that produces the region's most famous red wines – Barolo and Barbaresco.
Surrounded by the Alps, Turin is the charming capital of Piedmont with refined architecture and excellent cuisine. Barolo is full of picturesque vineyards, and Bra is one of the top culinary destinations in Piedmont. Popular for truffle mushrooms and cream sauces, Piedmont is growing into the country's latest culinary capital. Great food is paired with great wine for an exceptional experience in this must-visit wine region of Italy.
In the region, expect to find reds like Barbera, Nebbiolo, and Dolcetto. Common white wines are Moscato, Cortese, and Arneis. Vineyards around the Apennine Mountains offer exceptional mountainous views and fantastic wineries.
Why we love it: The impressive forefront views of vineyards and wineries that trickle into the snow-capped Alps in the distance are hard to beat. Plus, the Piedmont wine region is one of the best for wine and food pairings in Italy.
Our winery recommendations: Tenuta Montemagno is an idyllic spot on the hills of Monferrato, producing some of Italy's top wines. Terre del Barolo offers unbeatable views of the distant Alps and renowned wines, and it's a place to sit, sip wine, and savor the flavors and views.
—
Curious to know even more about the wine regions in Italy and which one is best for your trip to Italy? Reach out today for a free consultation!