The Gods created Greece, then scattered fragments of it far and wide across the Mediterranean and Aegean seas – and for our greatest pleasure! Birth place in 2700 BC of the Minoan Civilization, the first great civilization in human history, Greece then flourished as a beacon of the ancient world, in architecture, the arts, culture, and philosophy, and its society enjoyed such pleasures as athletics at Olympia, theatre, good food and fine wine.
Throughout these times, the country's 2400 islands were coveted by seafaring peoples, and nowadays we flock to them to enjoy their refined and unique blend of rugged landscapes, idyllic seas and beaches, lifestyle, food, outdoor activities, nightlife, and sheer, unparalleled variety.
These insular gems have been the set for movies such as Zorba the Greek, The Big Blue and Mamma Mia, and it is difficult to imagine a safer bet as an enchanting and unforgettable holiday destination. And should one island not quite tick all the boxes, a nice moussaka, or a warm pita bread stuffed with veggies, feta and olives, usually lifts the spirits – especially if washed down with a glass of Ouzo – and the next stop is only a ferry ride away!
Whether you want to slow down to the pace of Mediterranean life, gift yourself a romantic interlude, enjoy a family break, go back in time and contemplate historical ruins, or pack your vacation full of outdoor adventures by day and partying by night, you will be spoilt for choice with the Greek islands. Let's look at a few that will leave you wanting more!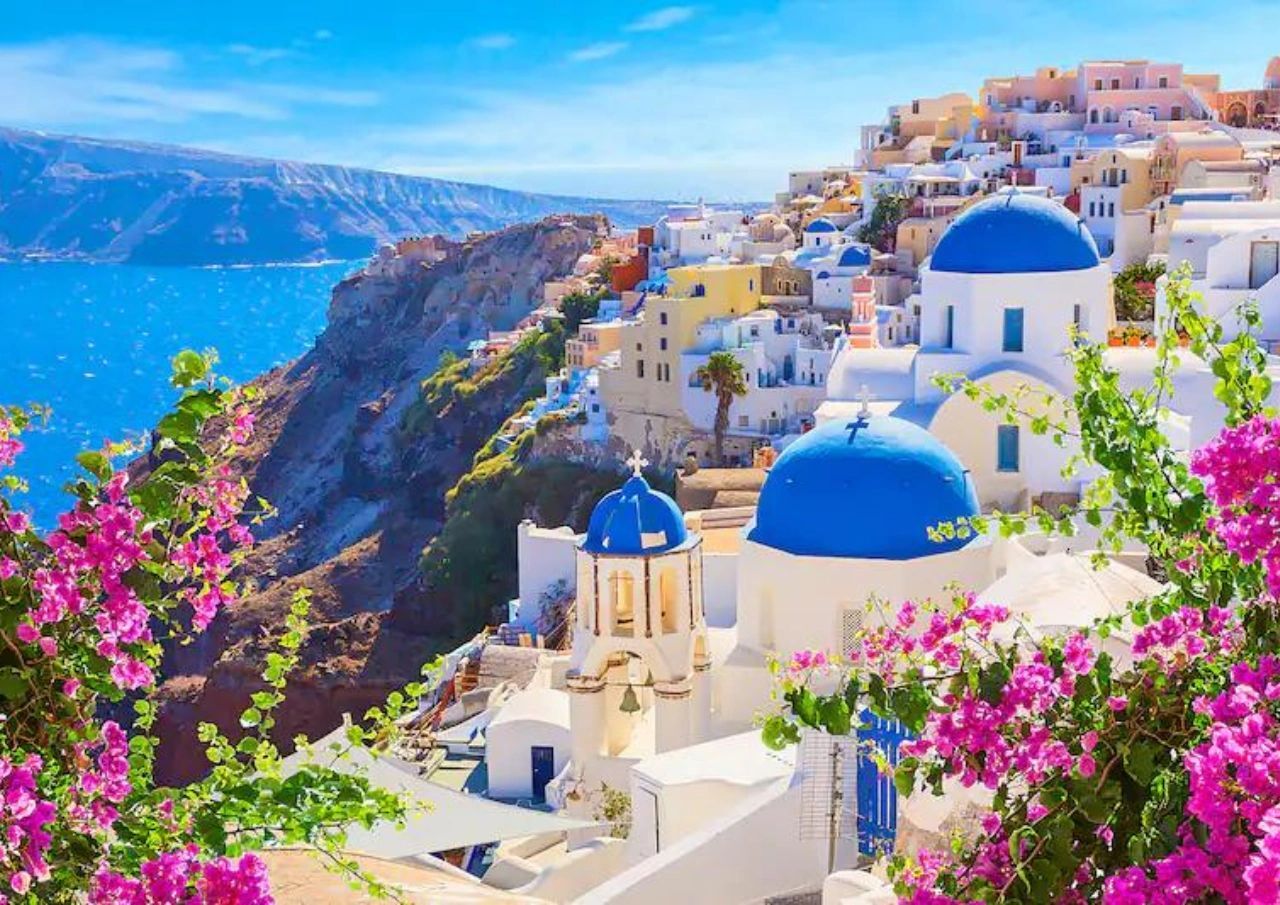 SANTORINI
Santorini is a great all-round island, offering almost anything you could wish for, including guaranteed enjoyment throughout the year, and whatever the season. The two main towns, Fira and Oia – with its narrow streets best explored on foot, – are perched atop cliffs above an underwater caldera. The island is renowned for its breathtaking scenery and jaw-dropping sunsets – to gaze at from Oia, or from a boat on the sea. Santorini is superb terrain for nature hikes and mountain biking, sailing, sea kayaking, and of course beach time! The colored cliffs of Red Beach and White Beach are a delight for sightseers, while Blue Flag beaches like Perissa and Kamari have the resort vibe. The village of Kamari also boasts an open-air cinema, where you can watch movies while sampling local beers and wines.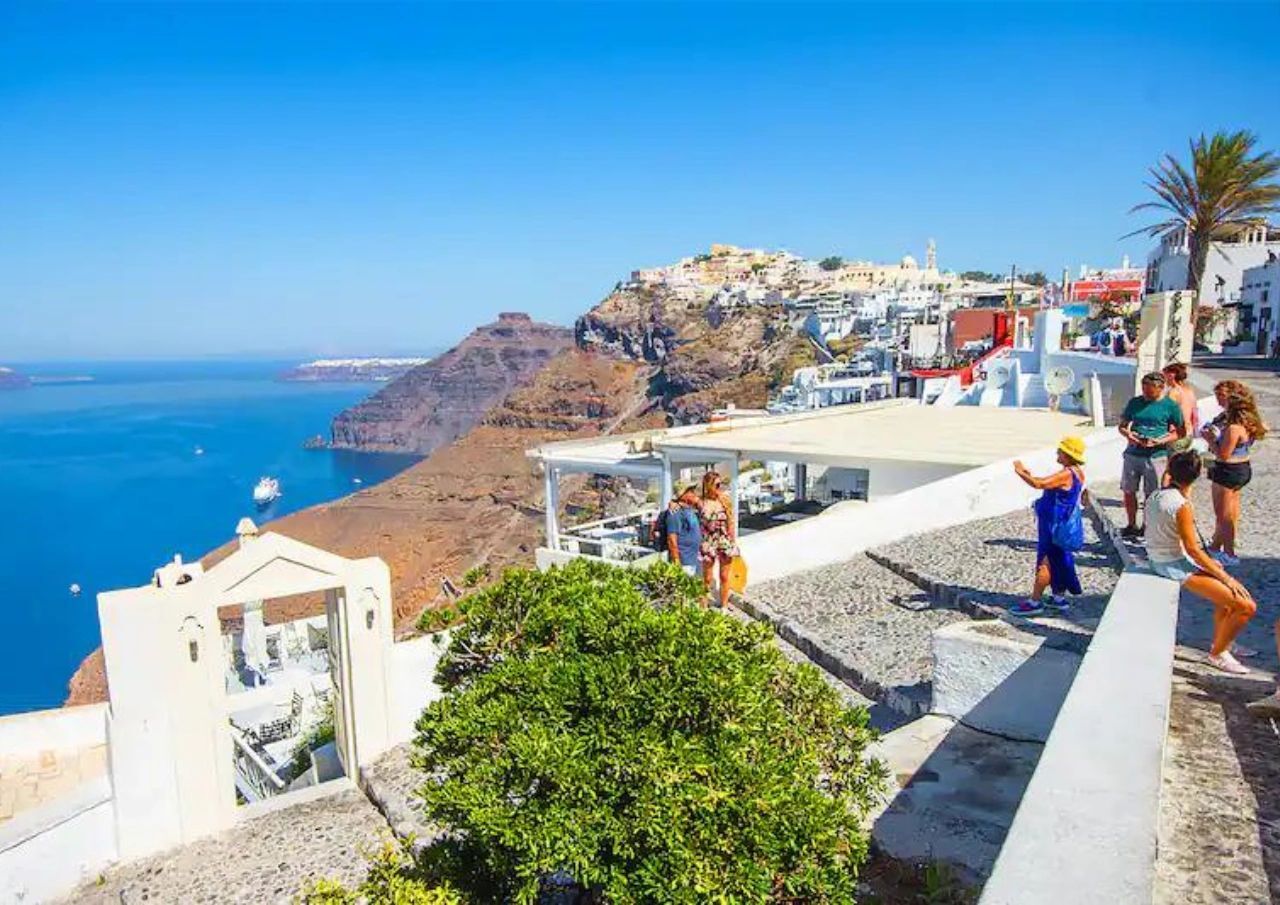 Kids in Santorini will enjoy the fun walk between Fira and Oira, through cobbled streets and along dirt tracks. And a trek up a volcano on Nea Kameni makes a fun family excursion too!
Nightlife enthusiasts will find mellow bars by many of the beaches, or head to Fira for more cocktail spots, drinking holes and nightclubs.
Santorini is certainly very touristy, and inveterate nature lovers, for example, may prefer less developed islands for their peace and quiet. But popularity brings variety – alongside classy hotels, Santorini has options for budget travelers too. Many say that if you only go to one Greek island, it should be Santorini – the island cannot fail to please!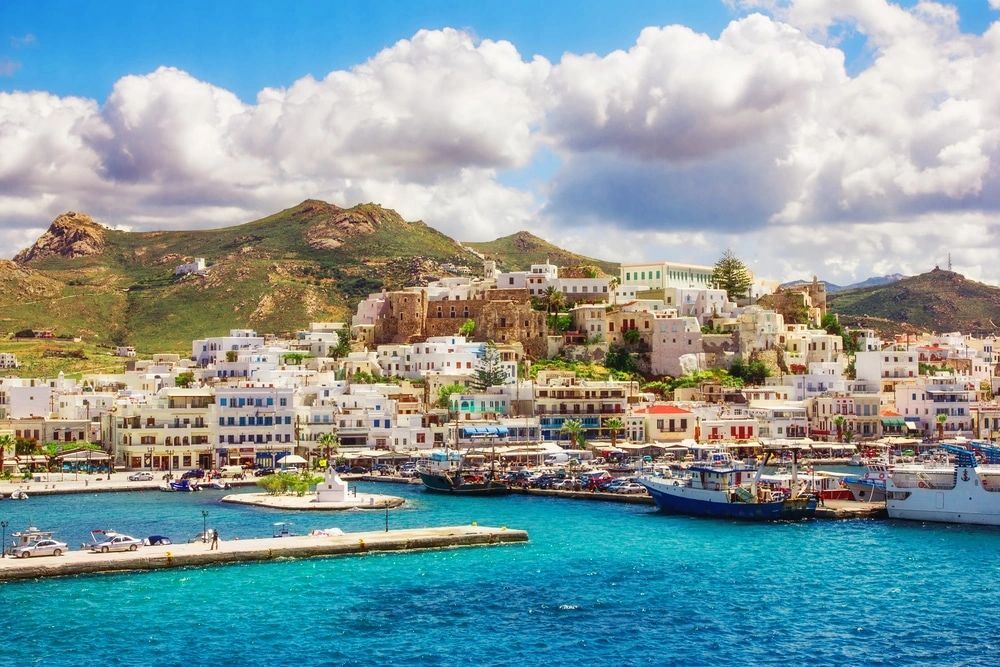 NAXOS
Naxos is a superb island for first-time visitors to Greece. Although not far from Santorini, and offering many of the same delights and activities, it is much quieter, less crowded, has magnificent beaches, wonderful food and is family-friendly. As one of the most mountainous islands, it's no surprise that a hike to the summit of Mount Zas is one of the highlights, and the seven-kilometer round route is easily manageable for kids. There are many more leisurely walks that allow you to amble unhurriedly between typical hillside villages.
Plaka Beach, and many others on Naxos, are beautiful smooth, white sand, sloping gently into a calm sea. But the wind can be more feisty, and there are great beaches for kite surfing and wind surfing too.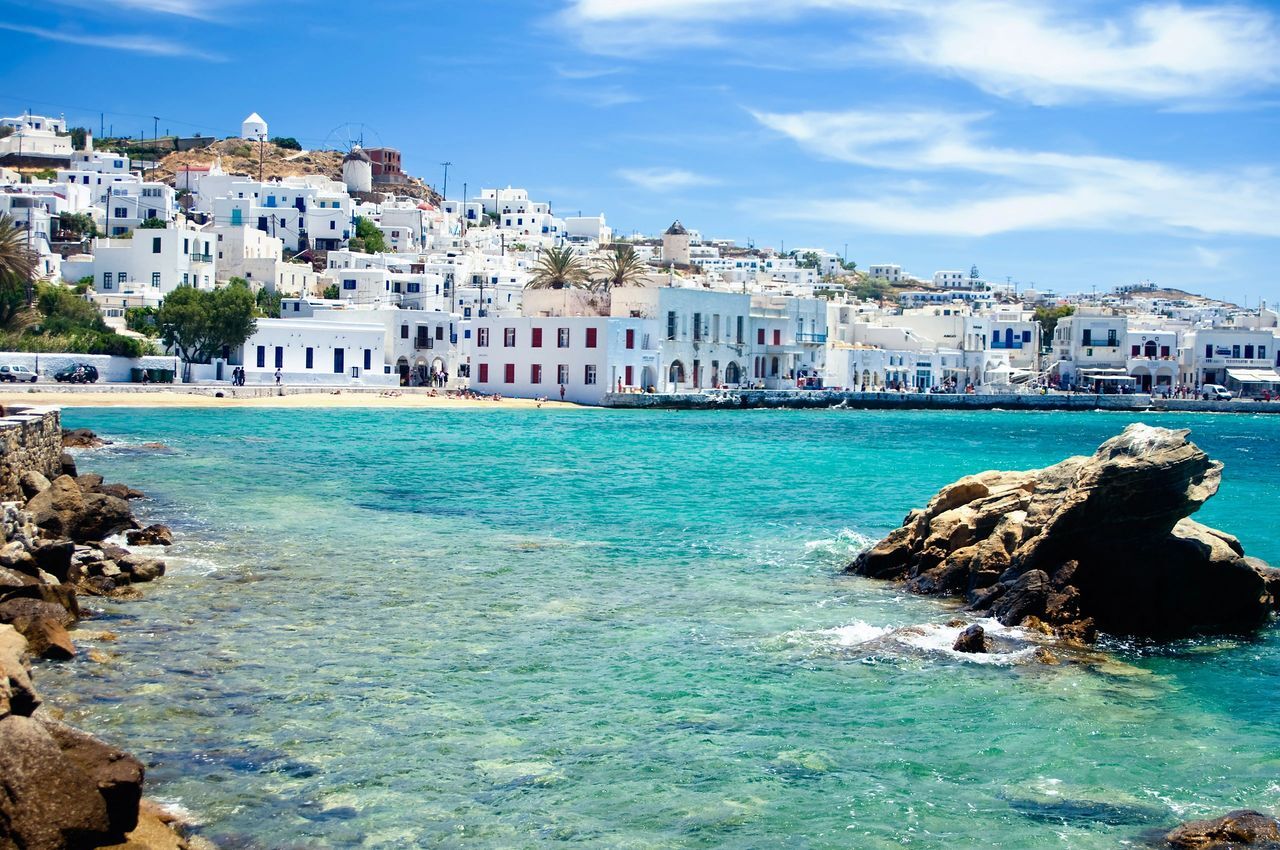 Chora, the little port city set on a hill, and the dazzling white capital of Naxos, is home to restaurants aplenty, and quaint little shops to sidetrack you as you climb up to the medieval castle, home to the archaeological museum displaying earthenware, jewelry and fragments of frescoes. For more majestic historical remains, head to the Portara, a great stone gate by the sea and most famous landmark of the island.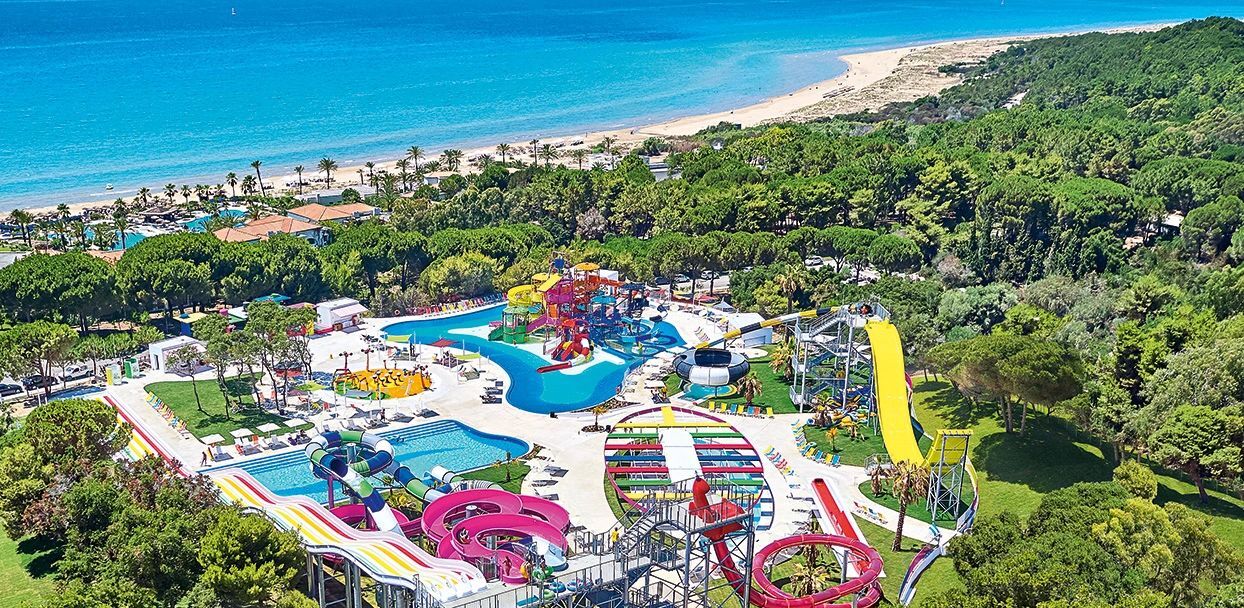 Children will enjoy leisurely hikes to more hidden ruins, boat trips to magical swimming spots, the thrills of the Aqua Fun Park, or horse-riding on the beach. Grown-ups will sip their cocktails without the bustle of Santorini or Mykonos nightlife, perhaps before a stroll beneath the stars along the harbor.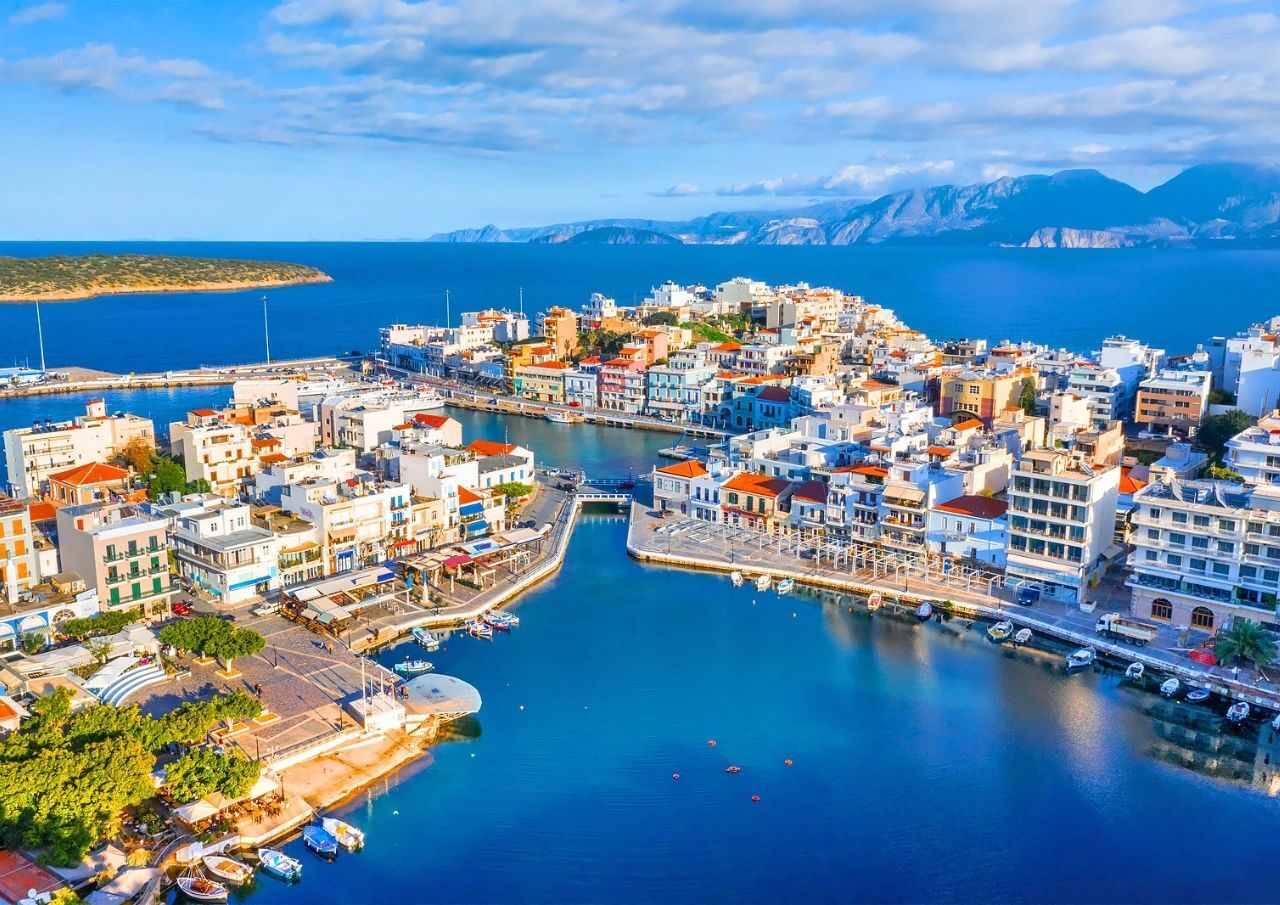 CRETE
Crete is the best island to enjoy the full range of Greece's outdoor activities. Its fantastic sandy beaches are many and varied, some with amazing beach hotels, and it is also perfect for out-of-season vacations. Such was the grandeur of the past civilizations that graced Crete, that a visit to some of the best historical sites is a must, beginning with Knossos palace and the remains of Heraklion city. The Minoan palaces of Phaistos and Malia also still bear testimony to the splendor of the past.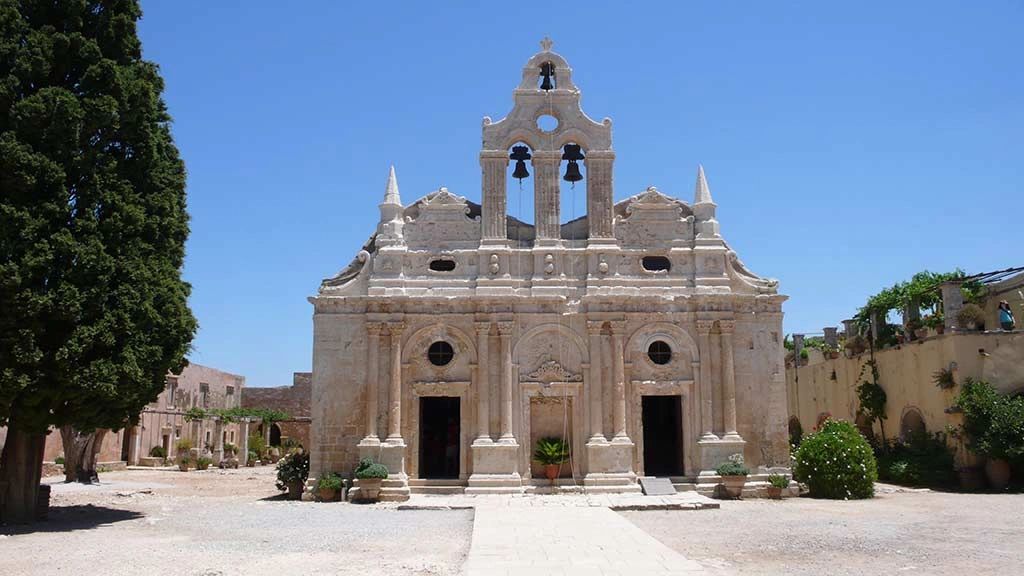 Arkadi monastery was the site of a tragic stand the Cretans took against the Ottomans in 1866, and is now something of a quiet sanctuary, while Chalia's colorful Venetian harbor makes for a more light-hearted walk by the water. The picturesque Rethymno is the best-preserved old Cretan town, and known for its mosque and iconic lighthouse.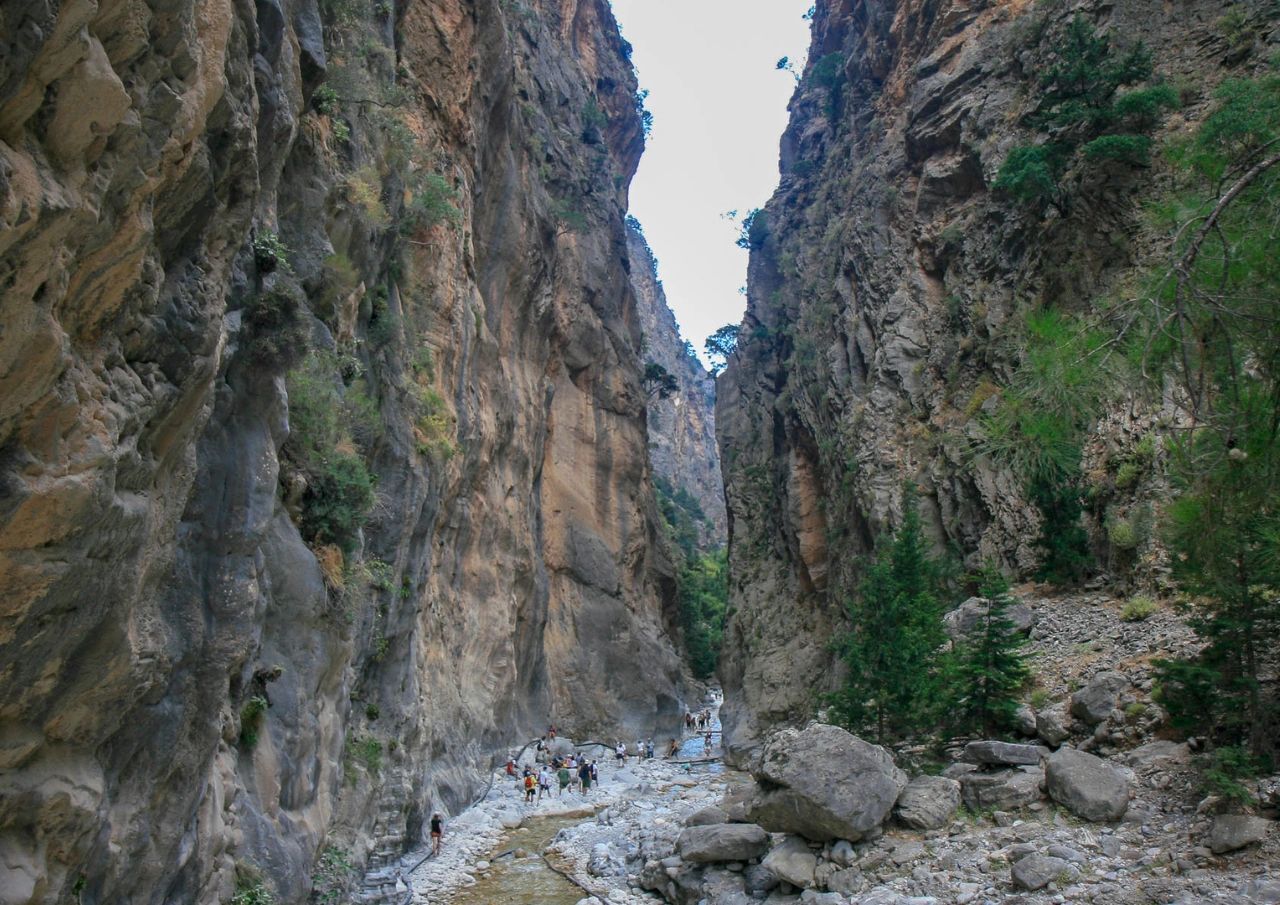 Inland, the 16-kilometer trek along Samaria Gorge is unforgettable, and at the end of your exertions between stark rock faces almost 300 meters high, you'll emerge into Agia Roumeli village. On other hikes, you can combine walking with canyoning – bring your swimmers!
For beautiful beaches, look no further than Elafonisi, which forms a shallow lagoon with Elafonisi island, where the sand is pink! Or Falassarna, a beach where you can swim in gentle surf – or paraglide above the sea and coastline.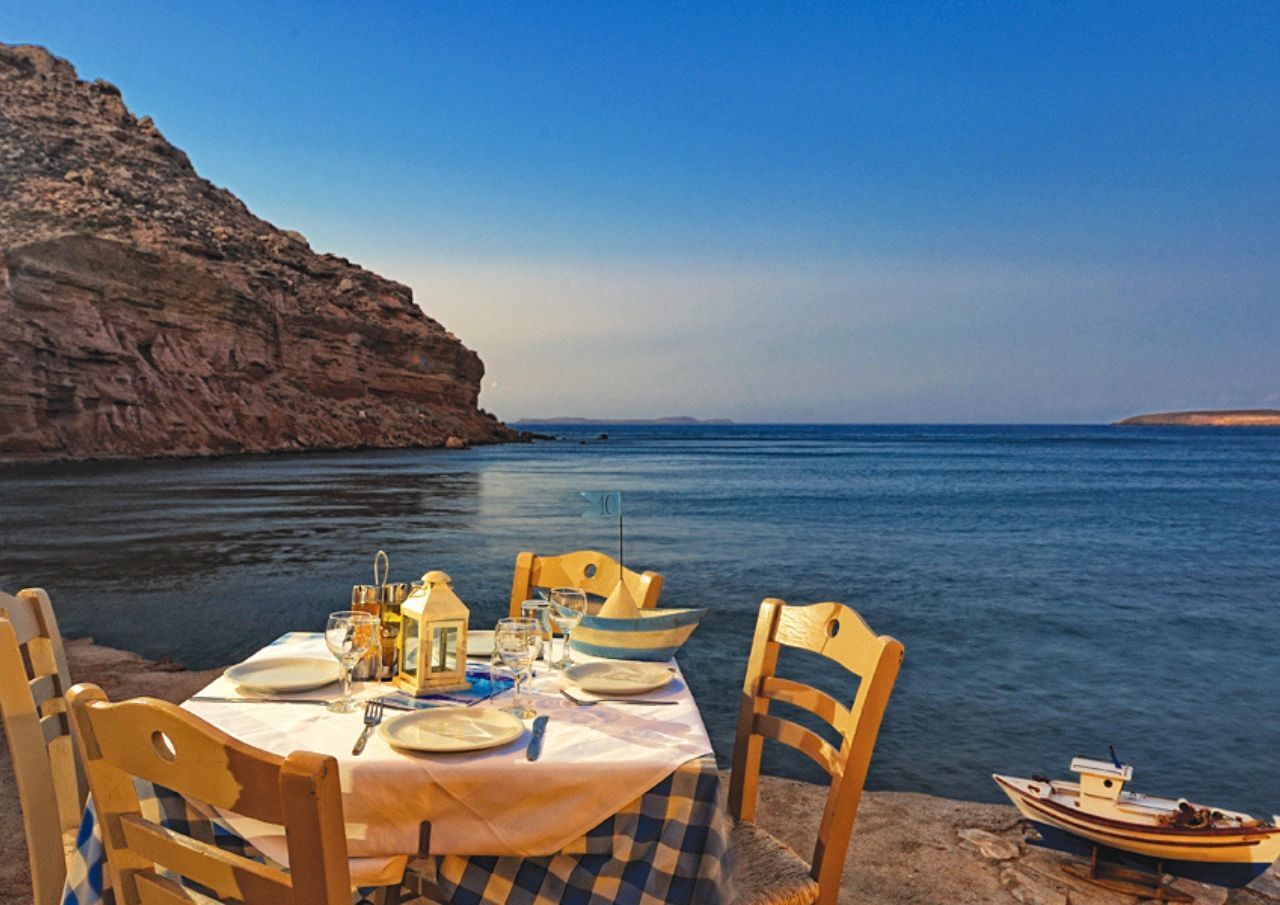 And if after all this you've worked up an appetite, Cretan tavernas serve dishes that skillfully accommodate local cheeses, vegetables and proteins, all seasoned with "liquid gold" – olive oil – and herbs.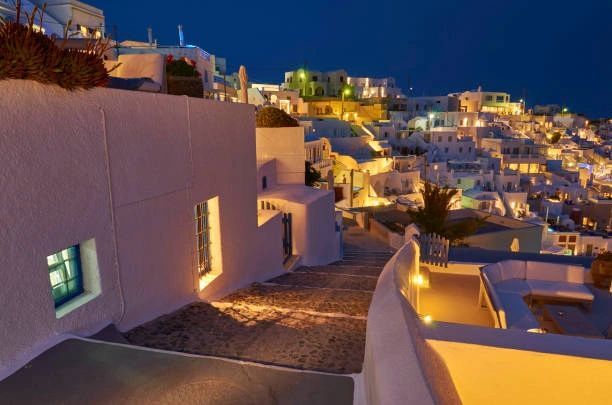 MYKONOS
Mykonos is often compared to Ibiza, for its party atmosphere and nightlife – the perfect place for a little festive holiday madness. And there is some truth in this – on Paradise and Super Paradise beaches, you won't escape the beat of bar music, and Mykonos clubs suck in anyone who wants to dance wildly until daybreak.
But there's more to Mykonos, and on foot is a good way to start to explore. The streets of Mykonos town crisscross low whitewashed buildings like a labyrinth, but if you get lost, look for the main artery, Matogianni street, a pleasant walking and shopping area by day, and a place to enjoy a quiet – or more lively– drink and dinner in the evening. Down by the harbour, the seven white windmills, nowadays symbolic of the island, look out to sea with spinning sails.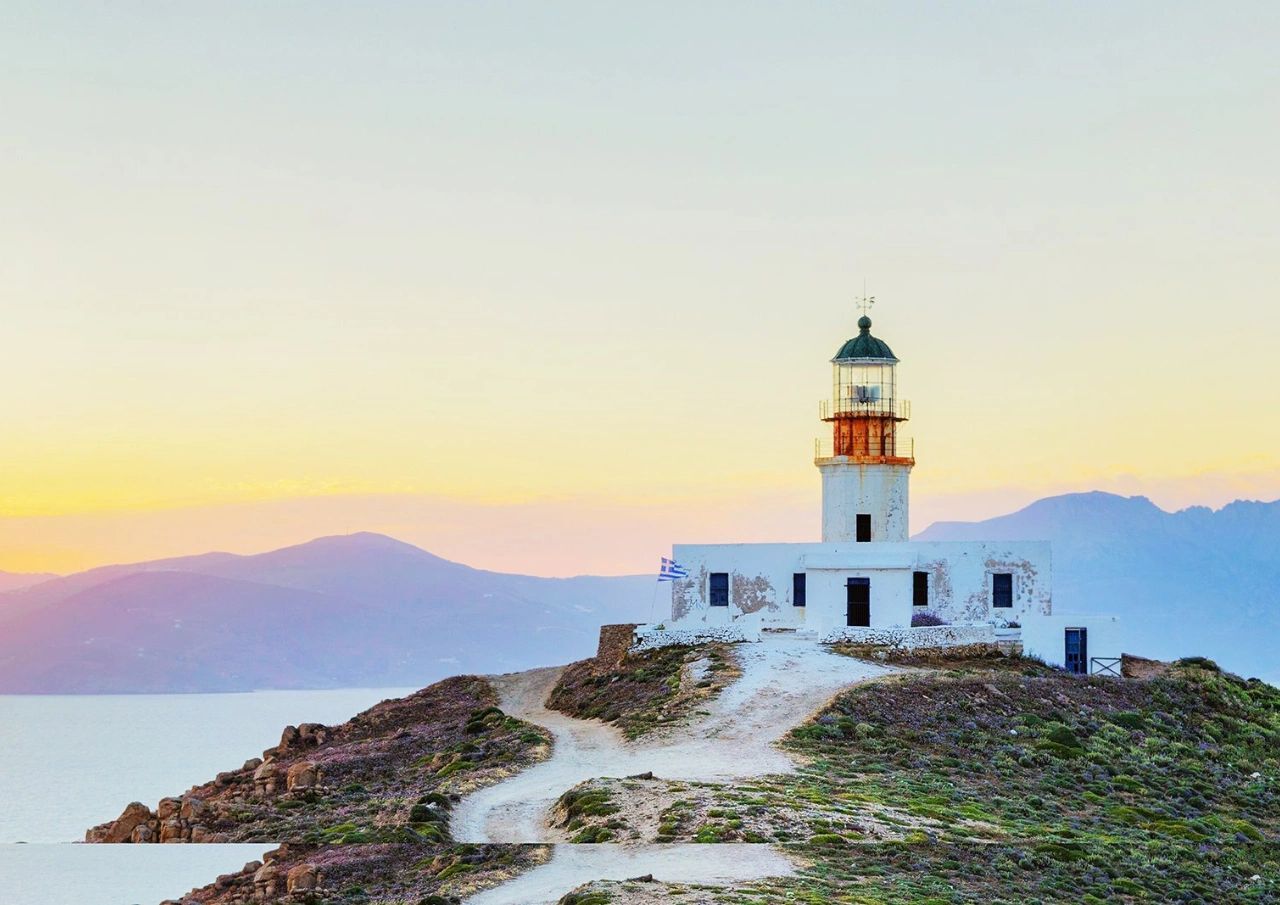 With a normal driver's licence, you can rent a small scooter – make the scenic trip to Arministice Lighthouse, or sit a while near the medieval church in Panagia Paraportiani. With its round dome immaculately white against a blue sky and sea, it is a favorite spot for photos.
The quiet beach at Agios Sostis belies the island's nocturnal revelry, and with no beachfront bars or eateries, is perfect for recharging your batteries before you return to the throng. For a more exuberant vibe and some watersports action, Kalafatis beach has jet-skiing and waterskiing, and windsurfing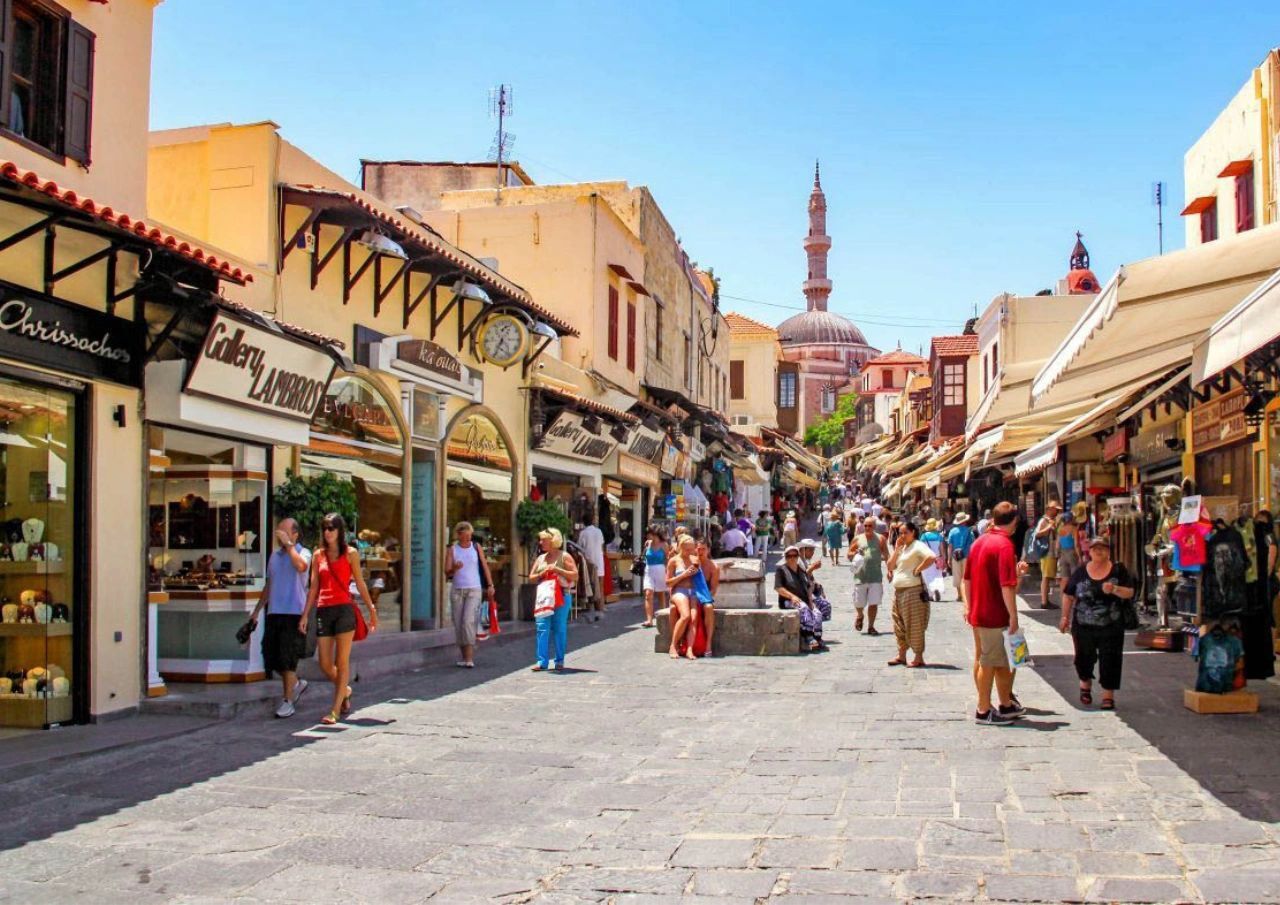 RHODES – Street of Knights
Rhodes is the bespoke island for history enthusiasts, and indeed, the medieval city of Rhodes was designated a UNESCO world heritage site in 1988. Walk through the town to the Suleman mosque or the gothic churches, visit the Street of Knights, or climb the stairs up Roloi clock tower for the view!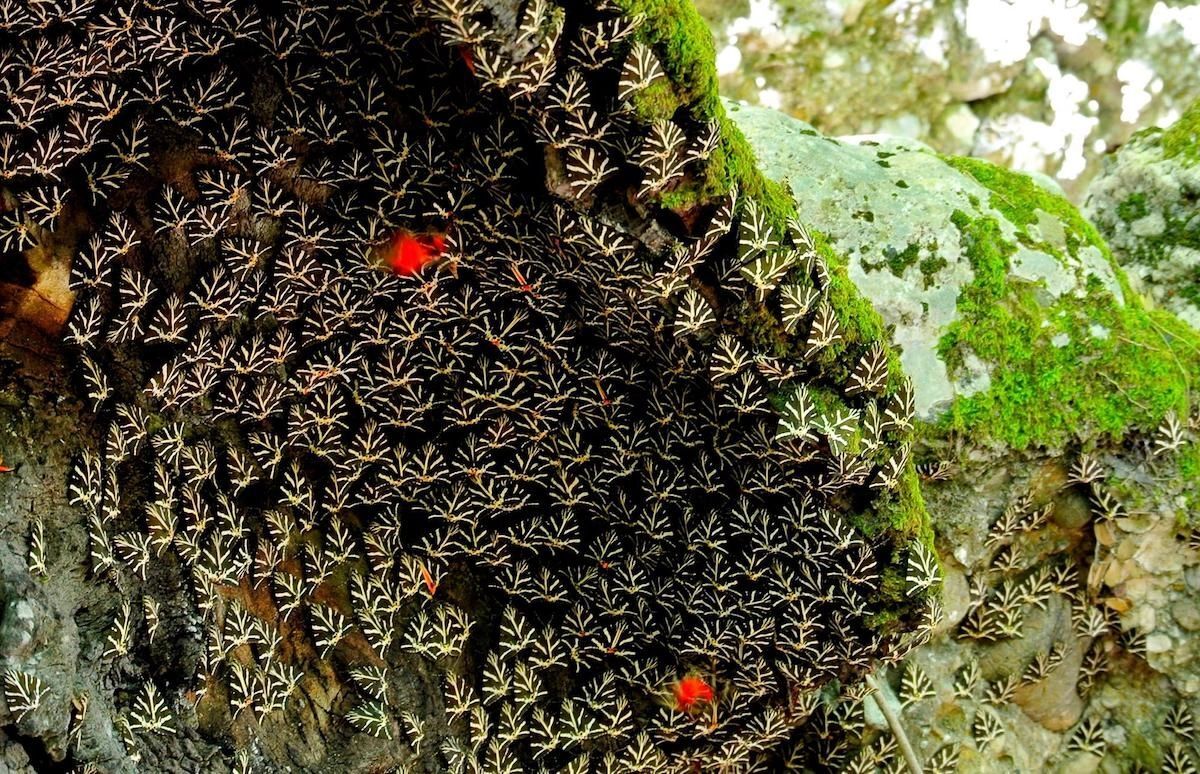 An unexpected treasure in Rhodes is The Valley of the Butterflies, where every summer thousands of butterflies congregate to breed. If you want to relax in natural surroundings for a minimal fee, visit the beautifully restored Kallithea springs spa, with its mosaic floors and picture-postcard view of the sea – swim in clear waters, or rest under a parasol on the beach. More springs you don't want to miss are in Epta Piges – Seven Springs. Popular with locals, and with a playground for children, the springs form a river which passes through a long tunnel in the rock – of you're not claustrophobic, you can walk all the way through to a small lake!
Beyond the fortified walls is Mandraki, the modern city, for a retail therapy interlude, or a visit to the aquarium that will delight kids.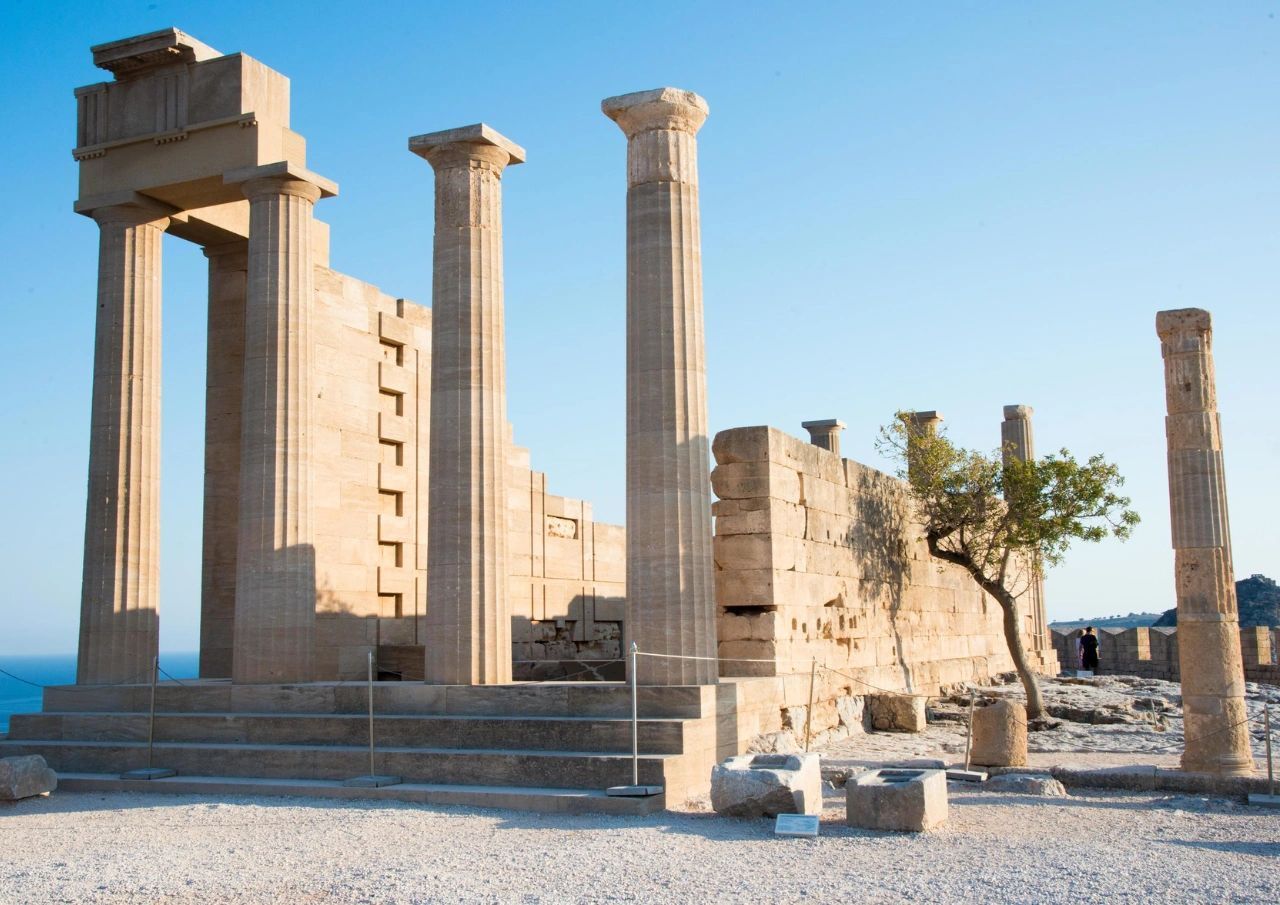 Further south is the beautifully picturesque and pedestrian only village of Lindos. Along its paved alleys, you'll find the usual shops, cafes and restaurants, but also a comfortable yet buzzing atmosphere. But you won't have earned your refreshments until you walk to the Lindos Acropolis – the pure lines of its pillars and walls reaching for the sky are a sight for sore eyes, one you can even enjoy from a sea kayak below.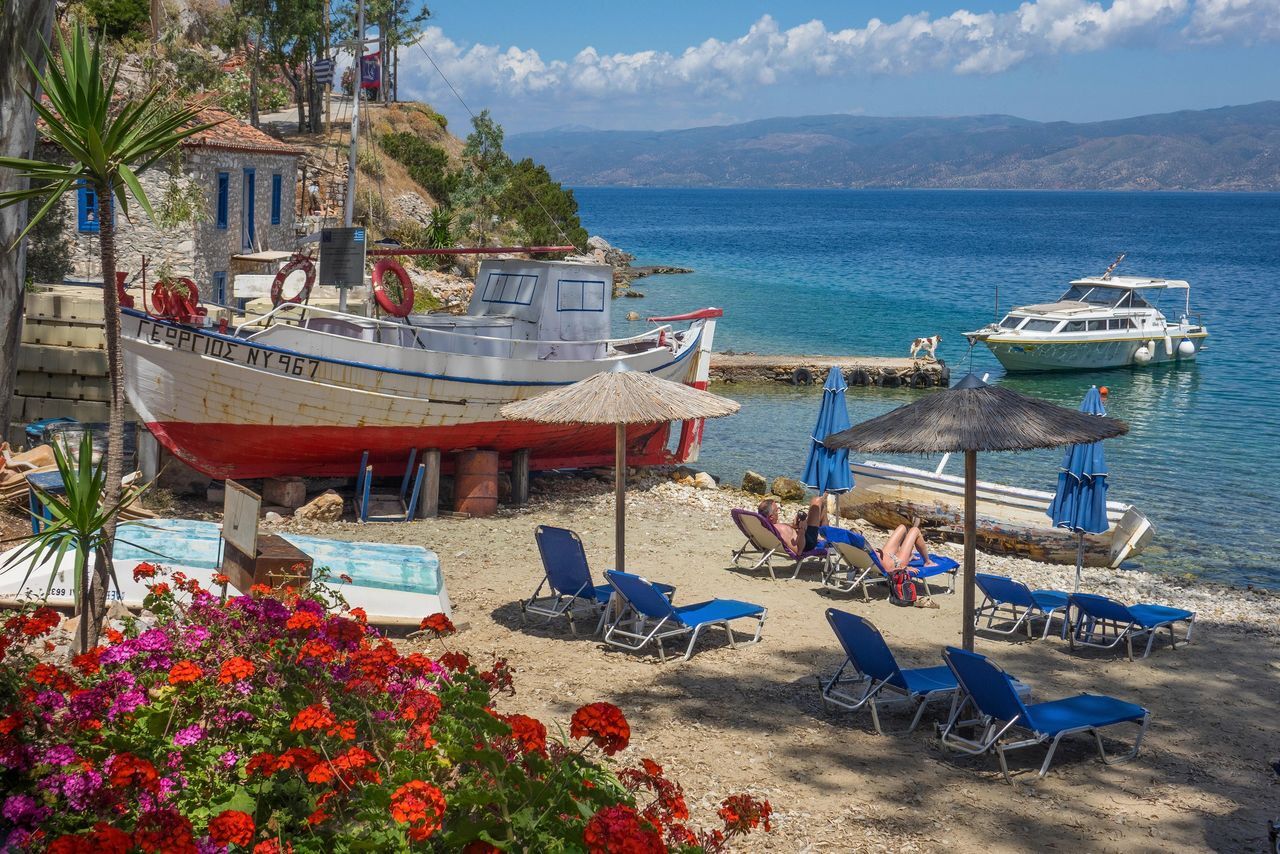 Some Greek islands, like Hydra, Aegina and Poros, are great for day trips or week-end getaways from Athens – others will reel you in for a week, while others still may never want to let you go! As the world opens up once more to international travel, Greece's islands beckon from their scintillating seas – and their treasures await you!
But hotels, tours, and ferries book up fast – and coordinating all your accommodation, transport and activities may feel like a bit of balancing act. But not to us! Organizing the perfect trip is what we do – tell us your dream Greek island vacation, and we'll help make it happen!
—
Ready to plan your next Parisian trip? Contact us today!